CBCGDF Established CCA for Forest Bird at Chengde | Welcome Chengde RCCK Wildlife Rescue Association to Join the CCAfa System
In August 2019, the head of the Revolutionary Committee of the Chinese Kuomintang (RCCK) Wildlife Rescue Association of Chengde submitted an application for the establishment of "China Conservation Area for Forest Bird" (CCAfa) at Chengde to China Biodiversity Conservation and Green Development Foundation (CBCGDF). After carefully reviewing according to the relevant procedures, CBCGDF strongly appreciated the contribution of local volunteers to protect the ecological environment including the efforts on bird's protection, river dredging, plant planting, etc., and agreed to formally establish this CCAfa site.
The establishment of this CCAfa site is of great significance. At the 2013 Beijing-Tianjin-Hebei Collaborative Development Symposium, Xi Jinping personally positioned Chengde to speed up the construction of the Beijing-Tianjin-Hebei water conservation function zone and solve poverty problems simultaneously. Chengde is located at the source of four major rivers, namely the Weihe River, the Chao River, the Liaohe River and the Daling River. It is located at the upper reaches of the Panjiakou Reservoir and the Miyun Reservoir. It is at the forefront of the two major sands of Inner Mongolia, Horqin and Hunshandake, and is Beijing and Tianjin's ecological barrier and water conservation area.
At the same time, if wanted to build ecological barriers and water conservation areas to create the magnificent scenery of lucid waters and lush mountains, as well as the enchanting lakes, we must need a lot of human and material resources to strive for it. CBCGDF's "China Conservation Area for Forest Bird at Chengde" and its volunteers' team are always on the front line, spending their time and experience guarding Chengde's guardians. According to the site's director Mr. Gao, there are more than 300 species of wild animals in Chengde. There are more than ten types of wild birds inhabiting in the Wulie River area in the urban area, and the number is more than 2,000. Among them, black stork and relict gull are national first-class protected animals, whooper swan and cygnet, as well as mandarin duck are national second-class protected animals.
Director Gao also said that since 2007, their team has been established with the support of RCCK's Chengde Municipal Committee and has opened a 24-hour helpline. All RCCK party members volunteered as wildlife rescuers to carry out wildlife rescue work in Chengde. After more than one decade of development, the association currently has one rescue base and one rescue station. It has rescued 26 state-level protected wild animals and 89 second-level protected wild animals, including four of the "giant panda of birds" black storks, four called as "national treasure" great bustards. Director Gao is very proud of it.
Director Gao also said modestly that they still need to work hard. They hope that under the guidance and with the support of China Biodiversity Conservation and Green Development Foundation (CBCGDF), they will further strengthen the public awareness of wildlife protection, carry out irregular patrols, stop poaching operations, and rescue injured wild animals. They wish that the future Chengde can become an ideal "home" for birds to inhabit and reproduction with clear rivers, dense riverbanks with lush plants and charming sceneries.
(Photo credit: CBCGDF China Conservation Area for Forest Bird at Chengde)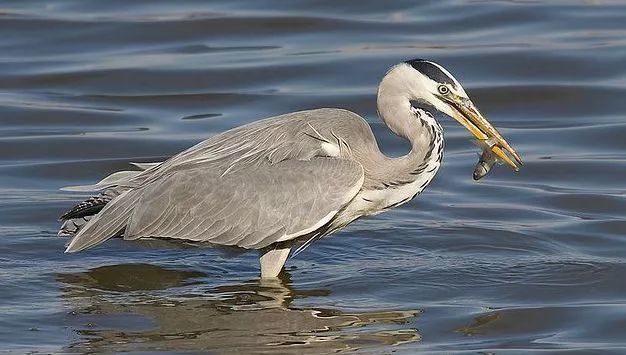 The RCCK Chengde Wildlife Rescue Association rescued and wild released a severed injured heron (Ardea cinerea).
(Photo source: Internet)
The association released a Peregrine falcon last year. (Photo source: Internet)
Original Chinese article:
http://www.cbcgdf.org/NewsShow/4855/10178.html

By / Wang Yanqing Modified / Niu Jingmei